Saturday, May 23, 2009
Knowing his ABC...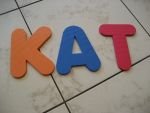 After a lot of practice we managed to get Thierry open his lips to brush his outside front teeth. What a patience, we deserve a medal! Really! In the serie kids loves playing with everyday's items: stairs!! His favorite game for about 2 months now... He even climbs them 2 by 2 (while I hold his hands, of course). Okay there is another thing he loves even MORE: look at his pictures or movies. What a narcissist! He loves looking at pictures when he was a few days/months old. It is more and more difficult to take pictures or film him as he wants to look at the camera right away.
On the bilingual side, Thierry says more and more words in both languages. But he chooses one word per thing. I explain him that Mama calls it so and Papa calls it different but both words mean the same thing. What I find inconvenient is that I seem to be the only one to understand him completely. He speaks a few words in French and at this age he still doesn't pronounce words correctly. Maybe it is for every kid the same, mothers understand their child the best even in one language families?
We are so surprised at seeing Thierry learning letters. His toys are on a foam puzzle letter mat and he started with the X. He came to us asking what it was. And then with the A, etc. We showed him the T "for Thierry, Tea, Tractor, Train..."
Look here at the movie
knowing the alphabet
. He recognises letters everywhere now, in shops, on advertisement boards, magazines. It is so amazing, we have never planned this. Kids really learn so quick and unexpectedly. Like words they say, you have no influence on what they will choose to pronounce and use. It is so cute to hear for the first time a word you said so often, and just out of the blue he says it too!
Labels: Thierry